Women Who Influence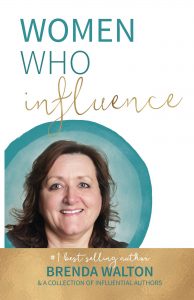 A collection of influential stories that will inspire your souls journey. Its an honour for Brenda to join 30 amazing women in this book collaboration. Together the authors provide the inspiration for women to live their best lives.
We can all recall experiences of feeling rejected, diminished and ridiculed. Eventually, we learned to fear these feelings. We learned how to change our behaviors, thinking and feelings to avoid feeling shame. In the process, we changed who we were and, in many instances, who we are now.
—Brené Brown
In her chapter, I am totally W.O.R.T.H.Y., Brenda shares her own journey through the unique process that she created to support women. She shares more of the expert guidance, powerful lessons and encouragement she's known for, as a popular keynote speaker and women's empowerment coach.