Start Today!
Invest in yourself and create the life you desire.
How do Q-Link Products Work?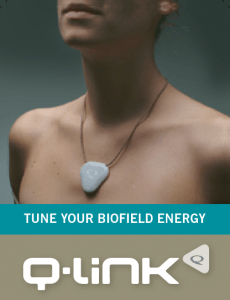 A growing body of research describes the term "Biofield" as the area that extends beyond the physical body. The biofield is a vital force that animates our bodies and powers our daily lives. When our biofield is out of balance, we're out of balance.
Q-Link products support the body's innate intelligence, energetic systems and capabilities – working like a series of optimally vibrating tuning forks to constantly resonating with, tune, enhance and support the body's own natural healthy frequencies.
Though every wearer's response to Q-Link products is unique, the most commonly reported benefits include:
Heightened energy, vitality, stamina awareness and consciousness
More rapid return to centered emotional balance
Enhanced physiological (physical, athletic, mental, spiritual) performance and output
Increased well-being and quality of life
Deeper more restful sleep
Q-Link products for your Body and Space are designed to balance and clarify your energies and are shown to reduce the effects of stress on your mind & body and improve your performance. From utilitarian to luxurious – there's a model for everyone.
Frequently Asked Questions
Do all Q-Link® wearable products work alike?

All Q-Link products are programmed in the same manner though there are differences in technology versions.

What direction should I wear a Q-Link® Pendant?

They can be worn, and are equally effective, facing either direction, inside or outside clothing.

Can my Q-Link® wearable product get wet?

Yes. Both product ranges are water resistant and can endure most any water related activity. Avoid or rinse well after salt water exposure. Do not expose electric/electronic SRT products (Nimbus, etc.) to moisture or water.

Can I wear my Q-Link® product anywhere on my body?

Pendants are designed to be worn around the neck, over the chest. Bracelets are designed to be worn on either wrist. Wear other products as suggested.

Can I wear my Q-Link® product with other jewelry without affecting the intended functionality?

Yes.

Can children wear Q-enhance products?

The products are believed to be life supporting for any age. Parents should use common sense, especially with young children, to prevent accidental ingestion or hazard from anything be worn around the neck.

Do I ever need to recharge my Q-Link® wearable product?

No.

Are Q-Link® wearable products easy to wear?

Yes. Wearable products are lightweight and designed to compliment a wide variety of lifestyles. To receive the greatest benefits, choose the product you feel you will utilize most often.

Will an airport x-ray damage my Q-Link product?

No. However, do avoid close proximity to industrial strength magnets, such as those found in an MRI machine.

Do Q-Link® wearable products have a power source?

Q-Link wearable products require no power source of their own. They work like a pre-programmed tuning fork, resonating with and strengthening the life-supporting information already present within the human biofield.

How long before I notice the benefits?

Individual experiences will vary. Some may notice change immediately, while it may take others days or weeks.

Is there a money back guarantee?

We want you to be satisfied with our unique and exceptional products. Therefore, all Q-Link products carry a 90 day, Risk Free, money back guarantee. Returned items must be in like new condition and accompanied by original packaging. Learn more here.

How often should I use my Q-Link® product?

To obtain the optimal range of potential benefits, we recommend you wear or utilize your product as often as possible.

When I first began wearing my product, the benefits felt more obvious. Why do I not notice them as much?

As the body has a tendency to become familiar with its circumstances, you may become less consciously aware of its benefits. We suggest going without your wearable Q-Link/SRT product for a week and compare how you feel with and without.