Start Today!
Invest in yourself and create the life you desire.

Thank you for confirming with me that it is only myself that is holding me back from believing I can get out there.
I was meant to be at this workshop and I received so many powerful gifts that have empowered me more than any other workshop I have taken. I am so thankful I followed my intuition and came, even though my bank account was saying I couldn't afford it.
Thank you for an awesome workshop. Looking forward to getting together with you and partnering!
Thank you Brenda for opening my heart and my mind as to where I am and where I am going in the future. Was wonderful to see the growth of each and everyone of us as you walked us through the weekend.
Upcoming events will be posted here when the booking is confirmed. Please check back later.
Experience the Peace Holistic Conference & Retreat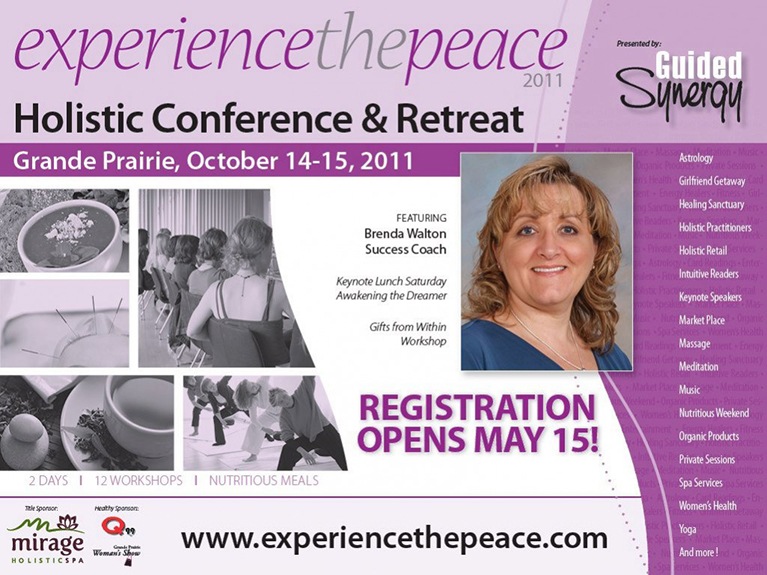 The 
Experience the Peace Holistic Conference & Retreat
 was an amazing event. Brenda was honoured to be included as a Workshop Facilitator and Keynote Speaker. We rejuvenated our bodies and unburdened our minds with a weekend of informative and fun workshops, meditations, nourishing food, yoga, healing therapies, spa services and more.
eWomen Network Speaking Engagements
Speaking at the Calgary, Edmonton and Grande Prairie Chapters of
eWomen
was an honour. It was empowering to connect with this community of women helping women. The eWomenNetwork's purpose is to support, promote and showcase members' products and services and to help them achieve their professional goals.
It was a delight to present at the Warburg Mother's Day Tea. The annual gathering, celebrating mothers, built self-confidence and explored the concept of W.O.R.T.H.Y. Women. What a great way to spend an afternoon.
Weekend Retreat at Heartland Inn
A private 3-day retreat at the Heartland Inn in Thorsby, Alberta was great fun. A small group of women connected in a very intimate setting. I have very fond memories of you ladies. Thank you for inviting me.