There have been times in my past when I have been ruled by self-doubt, not feeling worthy enough or smart enough.
But all of that changed for me several years ago.
The day, which started like any other, is branded in my memory. Like most weekdays, I woke up, got dressed and went to work at my job, working for a large corporation. However, that day would turn out different than any other day. I was fired.
The truth is, I had a very good job and I had received plenty of positive feedback in my performance reviews. An unfortunately, while the role was both exciting and challenging, occasionally I found myself doing work that was in conflict with my personal values. In turn, this created an unhealthy work environment for me, ultimately chipping away at my self-worth and making me question my skills, my abilities and my decisions.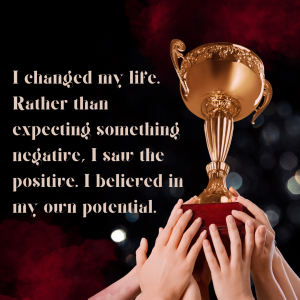 Over time, I became more and more removed from my work, and I wasn't performing at a level I was capable of. While my head told me I should leave, I was seduced by the salary, and convinced myself I was lucky to have such a good paying job.
That day came, though, when the decision was made for me and I was removed from my position.
At the time I was devastated, suffering a solid blow to the thread of self-esteem I had managed to retain. What I didn't know was that the moment I was asked to leave the company would mark the beginning of my personal journey to self-discovery, somewhat of a "road less traveled."
Looking back, I was on a journey. I was about to learn how to trust myself and really listen to my own inner voice. Up until that point, I had been so busy doing the "right" thing – going to work, earning a living, doing what I thought others expected of me that frankly, I'm not even sure I knew who "me" was anymore.
I did know I was unhappy and existing in a very unhealthy work environment. The "me" had been left behind years ago.
Now, after that fateful day, I had time to ponder my values, and really consider what I wanted out of life.
It was then that I made a decision, one that would change my life. I decided to toss out the rear view mirror, forget regrets or dwelling on the past. Instead I would focus my eyes and vision ahead. I was about to become an inverse paranoid (Sounds suspicious doesn't it?). The new me would believe that the world was bringing me opportunities, not barriers. I would expect – not hope for – positive outcomes.
I was on my computer and by chance, I stumbled across a site with an invitation from Jack Canfield, coach, author, and co-creator of the Chicken Soup for the Soul series. Jack, for the first
time ever, was selecting 100 people from across the world to attend his "Train the Trainer" program.
While I hadn't attended any of Jack Canfield's training, I had always dreamed of inspiring and motivating others. So I downloaded the form. I waited for two days, not daring to fill it out. The mental battle ensued. What was I thinking? I didn't have the skills or the background for this! Surely Jack wasn't looking for people like me, he'd been in the Secret and Oprah.
After two days I made a choice. I packed away my negative thoughts, and chose to see this as an opportunity. If I didn't send in the form, I had already decided my fate. If I sent it in, I had nothing to lose, did I?
So I sent it in and I waited to be notified that my form had been received.
Now this whole positive thinking was starting to feel pretty good, and I was actually feeling that maybe, just maybe, I had a shot at this.
So when I didn't receive an email or any other notification that my form had been received, rather than thinking, "I knew it, I'm not what they are looking for," I boldly thought, "They must have received thousands of applications and haven't yet reached mine in the stack yet." So I boldly picked up the phone and called to inquire as to where my application was in the queue.
If this is what I wanted in life, it was up to me to make it happen!
Oddly, Jack Canfield's office had never received my form. They asked me to fax it in again, and what happened next was a whirlwind. Within two days I was being interviewed as a potential candidate, and in just a few more days, I received an email that I had been accepted into the program.
I suppose it might seem like this opportunity changed my life, but it didn't.
I picked up the phone and I made a date with victory.